ZK02 Middle backrest arena seating for Audience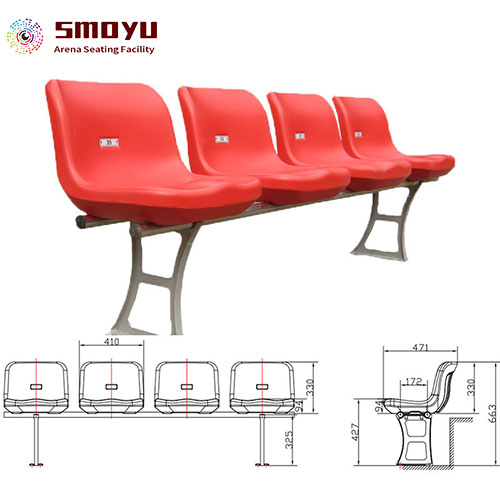 TECHNICAL SPECIFICATIONS
Dimensions
45 cm seat centres
41 cm depth
33cm height
Backrest
Texturized injected polypropylene.
Backrest made up of a double internal wall, thus contributing to higher resistance and enhanced aesthetics.
Fixation
3 ways for installation
1, fix with aluminum standing feet, and Waterproof galvanized steel pipe
2, Fixed directly to floor with screws with iron.
3, Fix to bleachers with iron.
Liquids discharge
Central hole in the back part, thus avoiding the accumulation of liquids in the seat and making the cleaning and drying easy and quick.
Volume
0.026 m³
Weight
2.00 Kg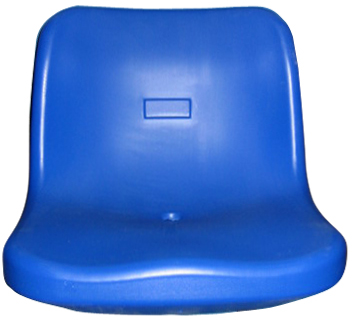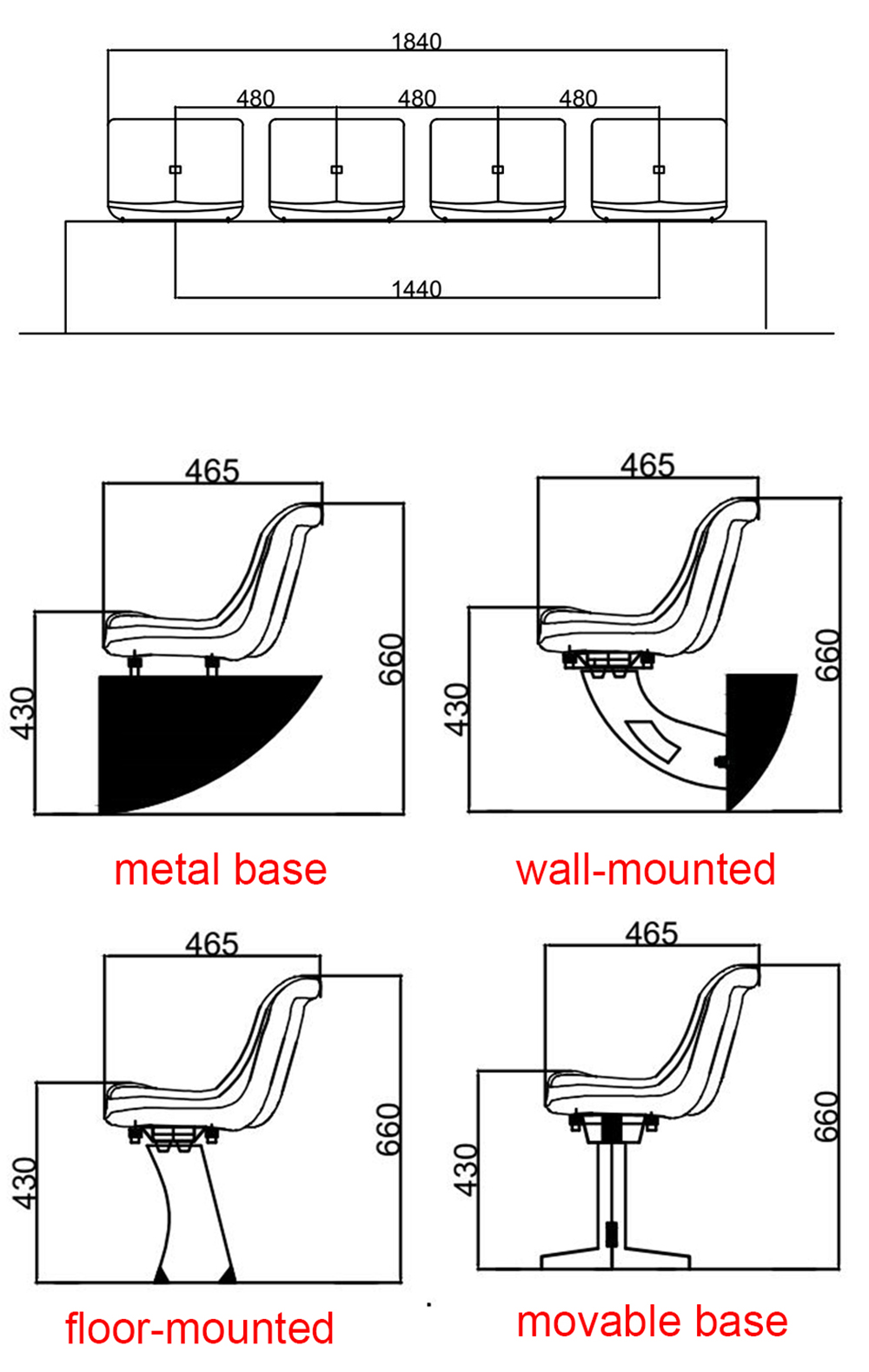 Sports arena seating cheap stadium seats HDPE CHEARS

Shanghai Smoyu INDUSTRY CO., LTD

EMAIL: Jason.h@arena-seating.com

MOBILE/WHATSAPP: +86-13127951153

WEBSITE: ARENA-SEATING.COM

PORT OF LOADING: NINGBO, CHINA

Brand

SHANGAHI SMOYU INDUSTRY CO., LTD.

Type

wholesale used stadium seats plastic seats for stadium

Model No.

ZK02 stadium chair with aluminum feet.

Place of Origin

CHINA

Size

customized stadium chair

Customized or not

Yes (Size and Color customized)

General Use

stadium chair, Auditorium, Assembly Hall, Theatre, Cinema, School, TV Station Showroom, Stadium, Race court, bleacher seats etc.

Description

1. Indoor/Outdoor stadium chair

2. Advanced blow mold craft with anti-aging, anti-UV and fire-resistant HDPE material, professional design with comfortable sitting feeling.

3. Fully 100% maiden Eco materials, not included any recycling material

4. Tip up seat: gravity folding, simple and artistic

5. Material of legs and armrest is aluminum

6. Stanchion: steel pipe, hot galvanized treatment, allowing a long service year.

7. Blow Molding stadium seat, With Armrest.

8. High-density polyethylene(PE) material for plastic parts.

9. Fix legs to floor with anchors, floor mount type legs

Packaging Details

CKD in carton, air bubble film and wooden frame stadium seat

MOQ

300sets stadium seat

Delivery Time

7-15 Days

Output

100 000 sets/Month stadium seat

Loading Port

NINGBO, CHINA

Payment

T/T L/C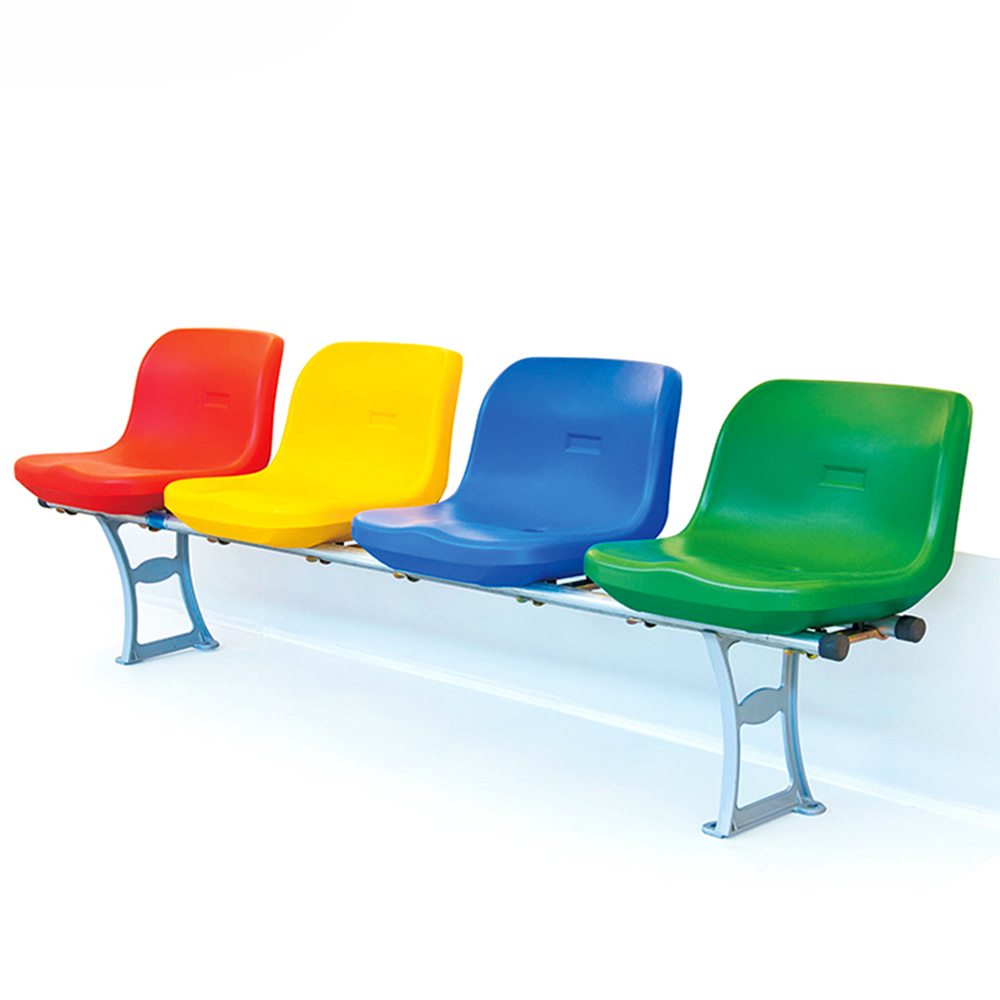 THE ADVANTAGES OF blow-molded PLASTIC CHAIRS
The advantages of blow-molded plastic chairs include cost, comfort, and easy cleaning.
COST--The price tag on a padded folding chair usually higher than a blow-molded plastic chairs because manufacturers assume that consumers are willing to pay more for the fluff and foam, and some of them are. But all it takes is a little research on the customer's part to discover that you get more for your money with a SMOYU blow-molded plastic chair. More comfort and more product life. SMOYU chairs are designed for outdoor as well as indoor use, so you get twice as much use out of them as you would padded chairs--which aren't designed for outdoor use.
COMFORT--In market simulations, SMOYU contoured blow-molded plastic chairs are preferred 2 to 1 over padded chairs. Surprised? Chair padding doesn't do any body much good if it is covering a flat seat. Padding will compress after each use until eventually you will be in direct Contact with that hard, flat surface. Besides having wider seats and taller backs than other chairs on the market, SMOYU chairs are ergonomically contoured to your body's natural shape so that it supports you in all the right places. SMOYU chairs will never lose their shape, even with constant use.
CLEANING--Blow-molded plastic chairs require very little maintenance compared to padded chairs. The high-density polyethylene plastic used in SMOYU chairs is scratch resistant, stain resistant, and water proof. No worries about rips, holes, or spills. Low maintenance is an especially significant advantage if you're providing seating accommodations for a large organization.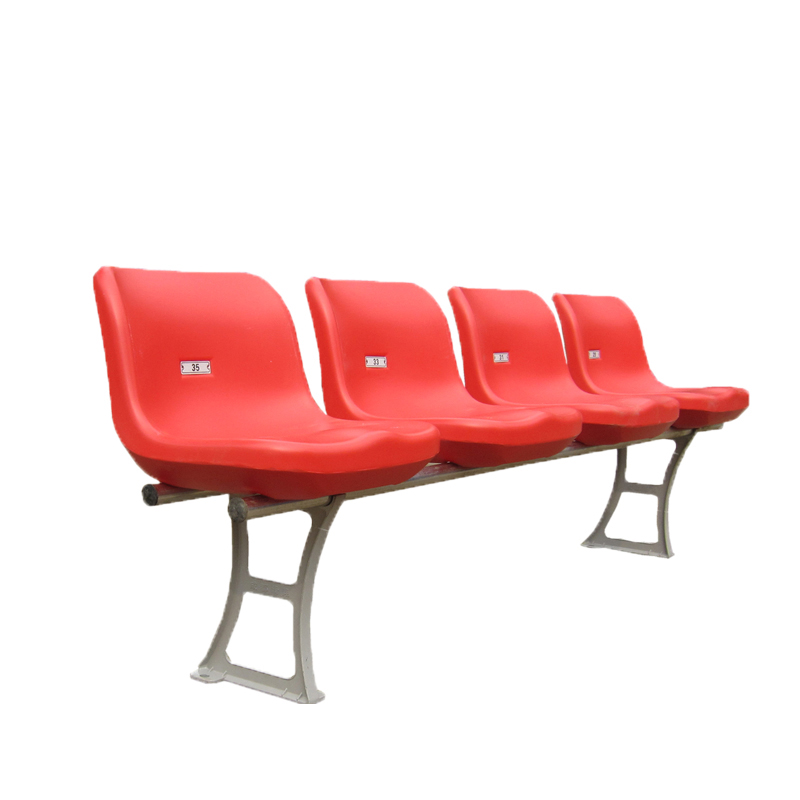 Double layered orthopedic stadium seat produced according to FIFA standard, with special water discharge canal and two mounting
Description:
1. stadium chair Material: Imported Heavy-duty Polypropylene (HDPE) stadium seat;
2. Installation mode: fix on the step directly by two screw and stuck key
3. Installation mode: With Aluminum frame, stand and side mode for option

Character:
1. Ergonomics, comfortable stadium seating design stadium chair.
2. The stadium seat fixed parts are durable and suitable for daily use of the sports stadium;
3. Patent design stadium chair: Simple to assemble or replace the sponsor advertisement component any time, also can be changed to show unique color of your club logo. which is one of the good way to increase owner income.
Specifications:
football stadium seat
Folding Chairs, fixed seating stadium chair, soccer Arena chairs, bleacher seating, High backrest molded seat, HDPE chair, HDPE plastic chair, UV resisted plasic chair, Blow molded plastic chairs, HDPE seats, Floor fixing stadium chair
UV resisted Blow molded plastic chairs HDPE plastic chair stadium seat
Shanghai Smoyu Industry Co., Ltd is founded in 2006, since then we are constantly specialized in manufacturing stadium seats for Chinese government and schools development. Since 2017, we have decided to bring our excellent products and services to the world and provide quality products and services to the world with products including stadium fixed seats, Metal Structural Bleacher System, retractable seating system, demountable stage system and divider curtain. We provide a link of high class service including professional design ,manufacturing ,delivery and installation etc. to meet the different requirements for the stadium and outdoor sports field.
SHANGHAI SMOYU INDUSTRY CO., LTD
EMAIL: JASON.H@ARENA-SEATING.COM
MOBILE/WHATSAPP: +86-13127951153
WEB: ARENA-SEATING.COM
PORT OF LOADING: NINGBO